The Solutions for pellet top-loading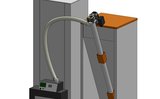 Posted in News - 02/11/2016
Here are the solutions that have we have brought on the market for the two types of pellet top-loading applications (directly into the combustion chamber and indirectly from an external tank to an internal tank inside the boiler):
TVR motor with integrated frequency inverter and gearbox: all of the benefits of a three-phase motor
Single-phase motors are by nature characterised by vibrations and low static torque. For this reason, it is often advisable to use a three-phase motor. But what if you only have a household voltage of 220V?Tecnovert TVR. An inverter integrated in an asynchronous three-phase electric motor, allowing it to be used with 220V power with all of the following benefits:
High start torque

Installed power reduced by 50%

No noise and no vibrations
The TVR, coupled to a wormgearbox or a shaft mounted gearbox enables speed control. This is a useful function to regulate the amount of fuel inside the burner or to set different loading speeds depending on the type of fuel (pellet, wood chips, olive pits, etc.).
KFT gearmotor: the ideal solution for your feeders
The KFT105 gearmotor is the ideal solution for handling pellet feeders. This compact solution, with a motor integrated in the gearmotor housing, eliminates the typical vibrations of single-phase motors, making it completely silent.The shaft mounted gearmotor also enables considerable energy saving, since featuring high efficiency (over 90%). This is what makes KFT105 an innovative gearmotor, in step with the market's most recent needs. The single-phase motor is equipped with a PTO probe for thermal protection of the motor.
Small ROBIN gearmotor, small size without compromise
The ROBIN gearmotor series is ideal for applications needing low powers: 40W, 60W and 90W. In this case also, the motor may be coupled to a wormgearbox or a small shaft mounted gearbox. A convenient and intelligent solution for small applications, without giving up on strength and reliability.